Posted in View PCVMA Newsletters
Newsletters: 
PCVMA Newsletter 01/2021 Volume:32 No. 1
PCVMA Newsletter 02/2021 Volume:32 No. 2
PCVMA Newsletter 03/2021 Volume:32 No.3
PCVMA Newsletter 04/2021 Volume:32 No.4
PCVMA Newsletter 05/2021 Volume 32, No.5
PCVMA Officers: 
President: Dr. Dan Jones – (PSIvet)
President-Elect: Dr. Joel Murphy (Animal Bird and Medical Center Palm Harbor)
Past-President: Dr. Hillary Maedel – (Fury Friends Veterinary Center)
Secretary: Dr. Marie Raver – (Oakhurst Veterinary Hospital)
Treasurer: Dr. Ernest Godfrey (Pinellas Animal Hospital)
PCVMA BOARD OF DIRECTORS
Dr. Brooke Certa – (Coastal Animal Clinic)
Dr. Kim Donovan -(Oakhurst Veterinary Hospital)
Dr. Brett Zager – (Animal Emergency Clinic – St. Petersburg)
PCVMA NEWSLETTER & PINELLAS ANIMAL FOUNDATION
Dr. Don Morgan – Donmorgansr@aol.com
PCVMA News Letter:
Dr. Don Morgan – Donmorgansr@aol.com
President's Message
Dear PCVMA Members,
We will resume in person meetings in June at Bascom's. Hopefully everyone will be fully vaccinated by that time. I am looking forward to seeing everyone in person again! Our May CE offering is sponsored by Allied Veterinary Laboratory and will be Monday May 17th at 7pm. Anita Kiehl DVM, MS, DACVP will provide 1 hour of CE titled Grading of Tumors: Tips for the General Practitioner.
The course is a review of the four major categories of tumors in the dog and cat with an explanation of how the histological diagnosis is derived for each, including examples of tumor grading with a discussion of the parameters by which the grade is decided, and exploration of how those parameters are related to the outcome. Also discussed are ways that the veterinarian can improve the quality of the submitted sample and thereby maximize the relevance of the final report.
Dan Jones DVM
Director of Operations – PSIvet
djones@psivet.com | www.psivet.com
Toll-free: 888-275-6523 | Cell: 727-560-3026
PCVMA 2021 MEETINGS AND EVENTS SCHEDULED
 May – Allied Veterinary Laboratories – Virtual
June 21, 2021 –  NUTRAMAX at Bascom's Chop House
July 8-11, 2021- Please attend the FVMA 92nd Annual Conference in Orlando
August 21, 2021 – PCVMA Annual baseball outing – Tropicana Field
September – Royal Canin – Bascom's Chop House
October 16, 2021 – BOWser & CATsino Ball – Belleair Country Club
November – Open
December – No Meeting – Happy Holidays
*Florida Pharmacy and Dispensing and The Laws and Rules of the Practice of
Veterinary Medicine in Florida, three hours CE, planning for February 2022.
2021 PCVMA DUES
Please support your county organization providing you with information and opportunities on continuing education, political/legislative issues, business/financial issues, Florida Pharmacy Dispensing and the Florida Laws and Rules required CE, approved CE Webinars and social events throughout the year.  Also including the PCVMA Annual Baseball Outing with a Tampa
Bay Rays game at Tropicana Field in the Left Field Terrace Suite.  Practice owners, please help your associates with their membership and the PCVMA with your continued support.  Membership dues allows you free access to all PCVMA events throughout the year.
Dues are $125.00 per year per veterinarian. Checks can be mailed in the preaddressed envelope enclosed for your convenience.  Credit cards can be processed by calling the PCVMA/PAF office at
727-397-7387 and leave your number or 727-410-7856(c).
Dr. Ernest Godfrey
PCVMA Treasurer
Pinellas Animal Hospital
7791 52nd Street North
Pinellas Park, FL 33781
WOULD EVERYONE  TAKE A MINUTE TO REVIEW ANY CLASSIFIED ADS YOU MAY HAVE POSTED IN THIS NEWS LETTER.   PLEASE CONTACT ME IF YOU WANT THEM REMOVED,  OTHERWISE YOU MAY CONTINUE TO GET LOTS OF UNNECESSARY PHONE CALLS OR E-MAILS.   ANY CORRECTIONS ARE ALSO WELCOME.
Dilate Cardiomyopathy (DCM) Study In – Doberman Pinschers
Dear Colleagues:
We are presently seeking patients to participate in our prospective, placebo controlled, randomized study on Dilated Cardiomyopathy (DCM) in Doberman Pinscher dogs.
The study is examining the efficacy of adding two Chinese Herbal Medicine Formulas (CHM) to the conventional treatment protocol for Doberman Pinscher dogs who have been diagnosed with Overt or Stage III DCM.  The formulas are Compound Dan Shen and Zhen Wu Tang. Anecdotal evidence and research performed in humans with diabetic cardiomyopathy support that the mechanism of action of these herbal medicines may extend the life and the quality of life for Doberman Pinscher dogs with this disease. The primary question of the study is simple: "Does the addition of CHM allow for greater survival of subjects over control patient at 6 months and beyond?"
The study will require the enrollment of 40 Doberman Pinscher dogs of any age or sex diagnosed with overt DCM (Stage III) within 2 weeks of enrollment. The inclusion and exclusion criteria are:
Inclusion criteria: (1) diagnosed with stage III DCM, characterized by morphological and electrical abnormalities with symptoms of congestive heart failure (CHF) within the last 2 weeks; and (2) owners must agree to complete a quality of life questionnaire.
Exclusion criteria: (1) with concomitant congenital heart disease or primary mitral valve disease be excluded, and (2) with co-existing diseases having a prognosis of £ 6 months.
Participants are required to obtain laboratory tests (chemistry, CBC, UA), Holter exam, and echocardiograms prior to enrollment as well as at 3 months, 6 months, 9 months, and 12 months.
Qualified subjects will be randomly placed into the Control group or the Study group.  Patients in the Study group will receive the two CHM formulas while patients in the Control group will receive placebo capsules of a similar quantity. The cost of the CHM's and the placebo will be covered by the study, which is being funded by the American Holistic Veterinary Medical Foundation.
Owners will be blinded to which group their pet belong.  Patients enrolled in the study will be required to receive echocardiograms and Holter monitor exams every 3 months for the course of the study.  The owners will be asked to fill out a Quality of Life questionnaire every 3 months. These patients will be monitored for 12 months.  Enrollment in the study is scheduled to begin on March 22, 2021. Anyone interested in enrolling a patient in the study may contact us at dobermanpinscherstudydcm@gmail.com.
Sincerely,
Gregory Todd DVM
Assistant Professor
Chi University
Upcoming Events
May 17 @ 7:00 pm

-

10:00 pm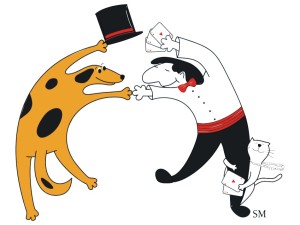 Print PCVMA Meeting RSVP Form