Posted in Latest Pinellas County Veterinary News, St Petersburg College News
St Petersburg College – College of Veterinary Nursing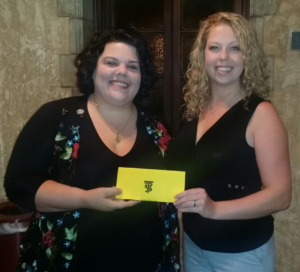 Dr. Hillary Maedel, PCVMA President, presented two $600.00 scholarships at the SPC
College of Veterinary Technology's end of year banquet.
The BAS scholarship winner was Jessica Rice who works for the SPC College of Veterinary Technology.
The AS recipient was Shannon Garrison who works at East Bay Animal Hospital (pictured above))
Veterinary Technology Student Selected as Finalist for Apollo Award
SPC had over 1400 students attend graduation May 11th at Tropicana Field.  The Associates in Veterinary Technology program graduated 40 students at the Spring graduation with the BAS graduating 11. For the first time, one of our veterinary technology students, Michelle Werden, was selected as a finalist for the Apollo Award. This is the highest honor an Associate Degree seeking student can receive.  Finalists are selected for their outstanding leadership abilities, scholastic standing, community service, honors and awards.  We congratulate Michelle on her nomination. She is an asset to the profession!
Michelle is an active member of Phi Theta Kappa Honor Society and the Florida Veterinary Technicians Association. She received the P.E.O. Program for Continuing Education Grant and was the recipient of the Pinellas County Veterinary Medical Association Scholarship. She has been a volunteer since 2016 with the Pet Pal Animal Shelter, where she assists with community events and educates the community on the importance of spaying and neutering their pets.
Drs. Maedel and Morgan present PCVMA scholarships.We would like to thank the members of PCVMA for their continued support of our veterinary technology students.  Drs. Maedel and Morgan attended our Spring 2019 graduation banquet on May 8th held at the Palladium. They presented two PCVMA scholarships. The recipient of the $600 scholarship from the Associate degree program was Shannon Garrison. Shannon completed her second semester in the program and is targeting Spring 2020 for graduation.  The $600 Bachelor's program recipient was Jessica Rice.  Jessica is in the process of completing her Capstone project and is looking to a Fall 2020 graduation.
Cynthia Grey, DM
Associate Dean
College of Veterinary Nursing
St. Petersburg College | 
727.302.6724 |