Posted in Latest Pinellas County Veterinary News, PAF News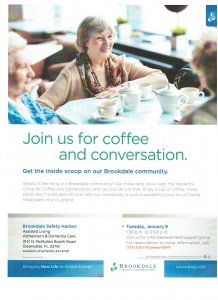 The Pinellas Animal Foundation is relocating the North County Pet Loss Support Group Meetings to the Brookdale Safety Harbor at 3141 N McMullen Booth Road.  Meetings will be held on the second Tuesday afternoons of each month from 1:30 pm to 3:00 pm. 
Those wishing to make a reservation at Brookdale with Dr. Judy Gammonley, our PAF North County Counselor, please call 727-397-7387 and leave her a message.
Hospitals needing more Pet Loss Support Cards for their clients,  please call the PAF office at 727-397-7387 and we will mail them out.  The PAF Pet Loss Support Program is a complementary service provided to your clients and paid for by those hospitals supporting the PAF.
Sincerely,
Donald H. Morgan DVM
President – PAF